On 12th February 1877, Alexander Graham Bell made the World's first long distance telephone call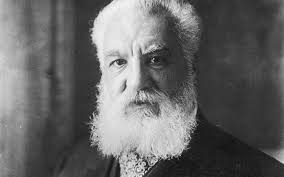 Alexander Graham Bell was a Scottish inventor who lived in Brantford, Canada.  His invention workshop was in his family home at 94 Tutela Heights Road where he and his assistant, Thomas A Watson, worked.  His mother and wife both had hearing impediments and some of his family members were speech instructors.  Obviously, this could be why he had a lifelong interest in the nature of sound.
Bell first tested his "telephone" invention from, and to, local places in and near Brantford.  But the World's first ever long-distance telephone call was made from the Lyceum in Salem, USA to the Boston Globe newspaper in Boston, USA on 12th February 1877.  Bell was at the Lyceum and Watson was at the Globe.
The particular telephone that was used for this call was a wooden box, approximately 10 inches by 10 inches by 8 inches, with a hole in the front. Bell called this his "Long Distance" telephone.  Therefore, the two parties to the call would speak and listen through the hole in the front.  Watson had devised a 'thumper' which would signal to the receiving user that a call was being made.
Mr Watson, can you hear me?
To make the World's first long distance telephone call, Bell held the thumper and tapped on the diaphragm.  In Boston, Watson was able to hear the same sound as it was replicated using the device.  A similar method was used by Watson to signify that he was ready to take the call. Bell then spoke into the hole at the front of the box; "Mr Watson, can you hear me?".  Watson replied, "Yes sir, I can hear you.", and then "Mr Bell, I should like to sing a song for your audience in Salem.  Are you ready?".
Later that same evening, Boston Globe reporter Henry M Butchelder turned in his report to colleague A B Fletcher by telephone.  Butchelder was present at the Salem end of the telephone call and Fletcher at the Bostone end . Infamously, this became the World's first ever newspaper report sent by telephone.